District Chair 2023 – 2024:
Liz Ostroumoff – Inner Wheel Club of Redditch
I am happy and delighted to be our Chairman during this centenary year (and our own District's 90th anniversary) and welcome you to this page.
Our year ahead will certainly be an exciting one, as we admire the foresight of our founder, Margarette Golding, whose vision of friendship, personal service and international understanding is as important today as it was one hundred years ago.
I embrace change, whilst respecting the ideals which are the roots of our organisation. I understand the importance of the friendship which exists amongst our members and, at the same time look forward to welcoming new members who will become our future, and whose fresh ideas are so important, just as it was when Margarette chaired her first meeting.
Plans are in place for a District celebration, covering all the decades of Inner Wheel, and clubs have plans to further our national President's theme "100 for 100". These plans cover ideas for fund raising, Inner Wheel promotion and fun events for members and their friends.
If you are visiting here and thinking of learning more about our clubs, there are contact details below where you can find out far more about our clubs, their local community involvement, meetings, fund raising and social events.
Inner Wheel is one of the largest Women's movements in the world, active in over 100 countries with more than 100,000 members and was established in Manchester, England nearly 100 years ago.
District 6 covers the Midlands area (Warwickshire, West Midlands, parts of Worcestershire and Staffordshire) and has 11 clubs with a membership of just over 260.
This is just a small part of International Inner Wheel, one of the largest women's organisations in the world.
There are Three Objectives of Inner Wheel:
To promote true friendship
To encourage the ideals of personal service 
To foster international understanding
FRIENDSHIP with SERVICE truly reflects a typical Inner Wheel Member. If you are not a member, why not join us and enjoy helping those in your community or overseas.
For more information about District 6 please contact us through the Association page – "Contact Us" or through our District Secretary – Sandra Lees, email – sandra.iwd6@gmail.com 
Membership and Development
Hello, I'm Sandra Wood, District 6 Membership and Development Chairman, as it's such a long title I'm known as MAD Sand. My MAD Committee and I help and support the 12 Clubs in our District to attract new members and keep existing ones.
MAD in District 6 has an elephant theme, this is because elephant herds are very like Inner Wheel.  Matriarchal herds, whose members form long term friendships and lasting bonds with each other. They are intelligent, sensitive, caring, compassionate, altruistic, playful and have long memories and support each other.
Inner Wheel has become even more relevant since Covid, as so many people felt and still do feel isolated and lonely, especially those who live alone.  This isn't just older people but statistics show that younger ones too.  Inner Wheel provides the perfect opportunity to make new friends and an instant social life with like minded women.  
Inner Wheel is open to women of all ages, backgrounds and ethnicity, we are non religious, (we welcome women of all religions and none), and apolitical.  We encompass a very wide range of backgrounds, experience and knowledge.  Club members interests range from walking and gardening to motorbikes and Zumba.
In District 6 our clubs are involved in a wide range of social events, from gin tasting to knit and knatters.  We also help our local communities, one of our clubs renovated and maintains a garden at a local hospital. We also help in the wider world, several clubs donated money to help in Ukraine or organised collections of clothing, medical equipment etc I their communities. 
So, if you want to have fun and help others join us!  (See "Contact Us")
District 6 of Inner Wheel has continued to be active in projects for fund raising over the last year 2022-2023 . As a district we have worked together to raise enough funds to provide the pupils of the Hanne Vibe Primary School with new PE kit . Red tops and Black shorts have been provided for 147 pupils. Individual clubs have each made a donation from their own fundraising activities towards the new very smart kit .
Clubs have also supplied knitted jumpers and blankets and made up baby packs for the newborns and mothers in the maternity hospital.
Individual clubs are also continuing to support their own choices of overseas charity organisations .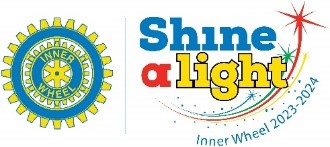 Each year the International President presents a theme to unite members towards a common achievement. When over 100,000 members prevail with one passion, the results can create the change across nations and for generations. As Inner Wheel commemorates the 100th anniversary of its formation the theme "Shine A Light" highlights two flagship initiatives:
Brighten Lives for the Future
Mental Wellness Brightens Lives
Currently Inner Wheel has the power of over 100,000 members – Is this enough? Not at all. We welcome energetic and smart women having a like-minded passion to brighten lives.
Volunteering is the backbone of our organisation and in 100 years of existence we have given millions of hours devoted to service. We are ordinary women doing extraordinary things.
District Rally September 2023
 This years Rally is being held at the Southcrest Manor Hotel on 21st September. 
The raffle at the event will be in support for APS Support UK. APS (Anti Phospholipid Syndrome) is an auto-immune disease. In adults it can result in Heart Attacks and Strokes and, in pregnancy, can result in miscarriage, pre-eclampsia, early birth and still birth.
BEAT is the UK's eating disorder charity. Founded in 1989 as the Eating Disorders Association, our mission is to end the pain and suffering caused by eating disorders.
To find out more about BEAT click here.
International Service
I'm Beryl Bryant, District International Service Chairman for the Inner Wheel year 2023-24.  This year being the centenary of our founding by Margarette Golding, we have an extra focus, as we conjure up ideas to commemorate and celebrate this achievement, and to continue doing what we do best:  give personal and collective service to those more needy.
To this end I have targeted two charitable schemes to support this year, one being the donation of goods to the people of Ukraine who are refugees in their own country – in partnership with International Aid Trust.

We have a long history of showing our prowess at hand-crafted items, especially knitting and crocheting.  We make jerseys and accessories, as well as blankets of all sizes, to bring comfort and cheer, and for Ukraine IAT has given us a priorities list, so we can focus on items of greatest need.  They include toiletries, over-the-counter medicines and first aid materials, clothes, footwear and camping equipment, as well as washing machines and tumble dryers.
The other scheme is helping to donate to The Book Bus, a registered charity whose aim is to establish and increase literacy in the young.
The buses provide a unique mobile literacy service to children in remote regions, in this case in Zambia.  It promotes reading skills, and spreads the joy of storybooks.  Each bus is beautifully decorated by Quetin Blake and filled to the brim with books and craft materials.  A volunteer crew helps children to read, write and enjoy the world of books.  This necessarily involves raising funds – something else that Inner Wheel members are good at – albeit that we are not a fund-raising organisation per se.  It is, however, an extremely successful way of making monetary donations which can more effectively be used by our partners overseas, very often also aiding the economy of the local area.
DISTRICT CHAIRMAN: Liz Ostroumoff 2023-2024
MEMBER OF COUNCIL: Sylvia Hook
1ST VICE CHAIRMAN: TBA
DISTRICT SECRETARY: Sandra Lees
DISTRICT TREASURER: Maureen Buxton
INTERNATIONAL SERVICE CHAIR: Beryl Bryant
DISTRICT EDITOR: Anita Tippin (acting)
DISTRICT MEMBERSHIP & DEVELOPMENT CHAIR: Pamela Griffiths
IMMEDIATE PAST CHAIRMAN: Margaret Phillips
HEALTH & SAFETY CHAIR: Margaret Phillips
Please contact our District Secretary, Sandra Lees at                    sandra.iwd6@gmail.com   
| Event | Date/Time | Location |
| --- | --- | --- |
| District Rally | 21/09/2023 | Southcrest Manor Hotel, B97 4JS |
| District Committee Meeting | 16/11/2023 10.00 for 10.30 | The Lake at Barston |
| District Committee Meeting | 21/03/2024 10.00 for 10.15 | The Lake at Barston |
| International Rally | 23/05/2024 Time tba | The Lake at Barston |
| District Committee Meeting and AGM | 06/07/2024 18.00 for 18.15 | The Lake at Barston |
| | | |
| | | |
Arbury
Atherstone
Edgebaston Convention
Kenilworth
Lickey Hills
Redditch
Rugby
Shirley
Solihull
Stratford upon Avon
Wylde Green
Trish at the UN
It has been a great privilege for me to be at the United Nations in my role of V.P. of International Inner Wheel. This has given me the opportunity of meeting our IIW representatives at the UN Martine Gayon and Michelle Burgess, together we have been to all the...