Dear Friends
We are about to commence the Inner Wheel year 2023/2024 which, as you know, celebrates our 100th year.  This, by any standard, is quite a magnificent and significant achievement. The year ahead gives us all an opportunity to rise to the occasion and challenges of "100 for 100". Whether it will be; knitting little baby cannula sleeves, baby hats to fill shoe boxes, Afternoon Teas or 100 items for the food bank, the choice is yours but make sure you have fun while doing it. Although the coming year should prove exciting,
energetic and fun, it is sad to note that we will not have the Falkirk Club with us, however, there are a number of ladies who will continue "At Large".
District Meetings are IMPORTANT events in our calendar and I would encourage those who can to come along and enjoy the experience and
friendship.  Our first District Meeting will be on the 2nd September in Peebles, so here is your first (and my first as Chairman) opportunity to meet you all there.  So come on girls I need your support. 
Just a reminder that the sales of the "Margaret Golding Rose" are doing well and I would encourage you to purchase one for yourself or as a gift.
Finally, I thank you for the opportunity to serve as your District Chairman and for the confidence you have in me.
Marjorie 
Marjorie McGeary
Chairwoman, District 2.
Marjorie's chosen charity ??
Marjorie has decide her charity to nominate this year will be DEBRA supporting individuals and families affected by Epidermolysis Bullosa (EB).   She would ask clubs to support this charity as well as continuing with their own fantastic work supporting their own local charities and causes.
Her message is "Continue with the great work ladies".
Association President
Anthea Tinsley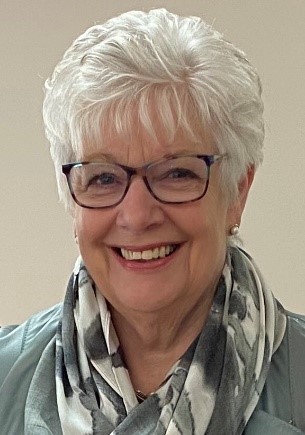 Anthea Tinsley – Chelmsford Mildmay D.24
Welcome to our Inner Wheel Centenary year
Thank you for giving me the opportunity and privilege of becoming your Association President in this special and exciting year.
I look forward to working hard with the Executive Team and all of you to strengthen our membership and promote Inner Wheel and all it represents. The Margarette Golding Rose, 100 for 100 activities supporting BEAT and our Inner Wheel Strategy gives us a golden opportunity to do this.
"Shine a Light" IIW President Trish's message helps Inner Wheel to focus its efforts at the Heart of the Community. We can shine our light on current members, the service they provide and spotlight our success in making a difference to people's lives.
2023- 2024 promises to be an extraordinary year. I wish you every success in your clubs and districts embracing fun, friendship and attracting new members.
In friendship
Anthea
District 2 is one of 29 districts across Great Britain and Ireland. It comprises of 10 clubs covering East, Central and Southern Scotland and about one third of scotland in total
Highlights from Blackpool Conference 2023
DISTRICT CHAIRMAN: Marjory McGeary 2023 – 2024
1st Vice – Susan Ramsden
Member of Council – Susan Morris
District Secretary – Elspeth Yuill
District Treasurer – Susan Ramsden
District Editor – Nancy Ralston
International Service Chair – Ros Stewart
Membership & Development – Helen McLennan
Meeting
Date
Place
Club Presidents' Lunch
30th September 2023
Tontine Hotel Peebles
District Exec' Meeting
1st October 2023
Tontine Hotel Peebles
District International Rally
6th October 2023
Afternoon Tea
St Michaels Church
Musselburgh EH21 7DH
District Meeting
4th November 2023
TBC
Musselburgh Club
18th November 2023
Coffee Morning
10.00 - 1.00pm
St Michaels Church
Musselburgh EH21 7DH
District Exec' Meeting
18th February 2024
Tontine Hotel Peebles
District Meeting & Quiz
2nd March 2024
TBC
Tranent Club
7th March 2024
Melville Castle Lasswade
Tranent Club
15th March 2024
Fashion Show
in aid of Blood Bikes
Community Centre Cockenzie
Monklands Club
27th April 2024
Charity Afternoon Tea
(with a glass of fizzy)
St Margaret's Hall Airdrie
IWW Centenary Convention
7th~ 10th May 2024
Manchester
District Exec' Meeting
12th May 2024
Tontine Hotel Peebles
District 2 Rally
29th May 2024
Radstone Hotel
Larkhall ML9 2TZ
District 2 AGM
5th June 2024
Zoom
Corstorphine
Galashiels
Kirkcudbright
Lanark
Motherwell
Musselburgh
Tranent
Larkhall
Monklands
Trish at the UN
It has been a great privilege for me to be at the United Nations in my role of V.P. of International Inner Wheel. This has given me the opportunity of meeting our IIW representatives at the UN Martine Gayon and Michelle Burgess, together we have been to all the...